Experiencing sharing meeting0918:Risk Prevention for the COVID-19 in Fall and Winter—Suggestions based on the Characteristics of the COVID-19 and China's Safety Strategies
Issuing time: 2020-09-21 19:00-20:30am (Beijing)
An online English-Chinese meeting on discussing the theme of"Risk Prevention for the COVID-19 in Fall and Winter—Suggestions based on the Characteristics of the COVID-19 and China's Safety Strategies"will held by IACCR at 19:00 (Beijing) on September 18th, 2020 in Zoom meeting.
This conference has invited Professor Li Jiayuan, Doctoral Advisor in Sichuan University; Mr.Chen Duqiang, New Century Institute of Education Safety Science and Technology Executive President ,and you are welcome to watch in Zoom meeting.
This is the conference agenda:
线上会议议程
Online Conference Agenda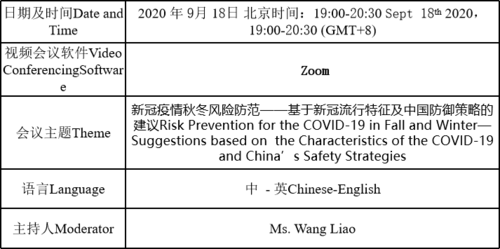 详细议程
Conference Agenda
Please send email to covid19response@126.com to get conference link.You can also scan the QRcode by WeChat to contact the administrator.