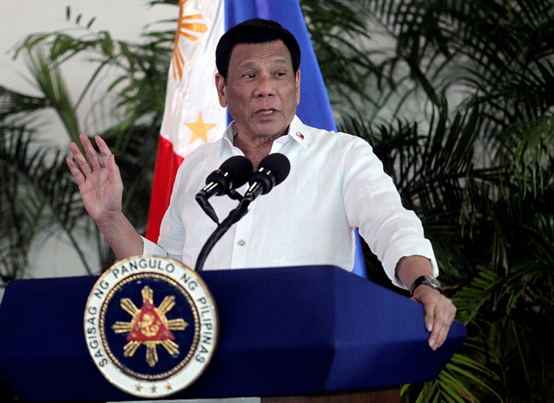 Philippine President Rodrigo Duterte [Photo/Agencies]
MANILA - Philippine President RodrigoDuterte approved on Sunday night the recommendation of his Cabinet to imposestricter lockdown rules in Metro Manila and the neighboring provinces followingthe surge of COVID-19 cases in the last four days, his spokesperson Harry Roquesaid.
The lockdown will start midnight ofAug 4 and last until Aug 18.
The Philippines reported 5,032confirmed new cases on Sunday, breaking a previous high of 4,963 new cases onSaturday, following 4,063 new cases on Friday and 3,954 new cases on Thursday.
In a briefing on Sunday night, Dutertesaid the National Capital Region will be put under the "moderate enhancedcommunity quarantine" (MECQ), along with the provinces of Cavite, Laguna,Rizal and Bulacan where there are significant community transmissions.
The decision to tighten the rules overMetro Manila came after Duterte met several members of the Cabinet on Sundaynight to discuss the appeal of health workers to place the capital under astricter lockdown following the spike of cases.
Metro Manila, the epicenter of the outbreak,consistently records the highest number of COVID-19 cases since the diseaseemerged in the country in January.
Under MECQ, all people are mandated tostay at home. Only limited outdoor exercise is allowed such as outdoor walk,jogging and biking with safety protocols. Gathering is only limited to fivepeople. No public transport is allowed to operate, school premises will remainclosed and work from home is highly encouraged.
On Saturday, health workers fromdifferent medical organizations wrote Duterte a letter to air their sentimentsabout the COVID-19 situation in the country. The health workers said that thecountry's health care system has been overwhelmed, with hospitals temporarilyclosed to decongest and health workers falling ill.
The health workers also stressed inthe letter that the country needs to "come up with a consolidatedplan" because it is in a "losing battle against COVID-19." The Philippines has reported a totalof 103,185 confirmed COVID-19 cases, with 2,059 deaths and 65,557 recoveries,according to the Department of Health on Sunday.