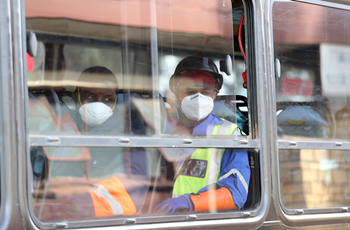 Mine workers wearing face masks look on at the end of their shift, amid anationwide coronavirus disease lockdown, at a Sibanye-Stillwater mine inCarletonville, South Africa, May 19, 2020. [Photo/Agencies]
Africa's totalnumber of confirmed coronavirus cases has surpassed 800,000 according to theAfrica Centers for Disease Control and Prevention.
Lateststatistics from the Africa CDC indicate that South Africa, which has confirmed434,200 cases,has well over half the reported cases on the continent and ranksfifth globally in the number of infections.
On Friday CyrilRamaphosa, South Africa's president,said schools were closing for four weeks tolimit the spread of the novel coronavirus, which he described as a stormhitting the country.
"We havetaken a deliberately cautious approach to keep schools closed during a periodwhen the country is expected to experience its greatest increase ininfections," Ramaphosa said in a televised address to the nation.
The schoolclosing order came a week after South African teacher unions urged authoritiesto close schools through August.
Following areduction of restrictions initially introduced to curb the spread of the virus,infections are reported to be climbing rapidly in most African countriesincluding Kenya, East Africa's economic hub, which has so far reported morethan 16,500 cases.
Last week CyrusOguna, Kenya's government spokesman,said he has contracted the coronavirus andis at an isolation facility. According to a statement posted on social media,Oguna said he had developed mild symptoms after returning to the capital,Nairobi, from an assignment.
"I urge allKenyans to take this disease seriously and take all the necessary precautionsto avoid getting infected," Oguna said.
In a jointeffort to enhance research and development of traditional medicines forcoronavirus in Africa, the World Health Organization and the Africa CDC on July24 launched an expert advisory committee to provide independent scientificadvice and support to countries on the safety, efficacy and quality oftraditional medicine therapies.
The 25-memberRegional Expert Committee on Traditional Medicine for COVID-19 will supportcountries in collaborative efforts to conduct clinical trials of traditionalmedicines in compliance with international standards.
By poolingexpertise within the continent, the Regional Expert Committee is expected toaccelerate the pace and elevate the standards of research, particularlyclinical research on new therapies from traditional medicines against thevirus.
The WHO saidthat it recognizes that traditional, complementary and alternative medicine hasmany benefits and Africa has a long history of traditional medicine and practitionersthat play an important role in providing care to people.
"Interestin traditional medicines as potential remedies for COVID-19 is growing inAfrica. As the world races to find treatment and vaccines against the virus,research into traditional and orthodox medicines as potential COVID-19 therapymust be grounded in science, and this measure marks an important step insupporting these endeavors," Matshidiso Moeti, WHO regional director forAfrica, said.
According toJohn Nkengasong, director of the Africa CDC and WHO Special Envoy on COVID-19for Africa, commendable efforts are ongoing on the continent to findcoronavirus therapies in traditional medicine. He added that rigorous clinicaltesting to evaluate safety and efficacy will be critical, similar to otherareas of medicine.
The members ofthe Regional Expert Committee are mainly from research institutions, nationalregulatory authorities, traditional medicine programs, public healthdepartments, academia, medical pharmacy professions and civil societyorganizations of member states.
The Africa CDCsaid that the committee will start working immediately. Developing a masterprotocol to guide countries in clinical trials for COVID-19 and setting theagenda to support member states will be among the committee's initial tasks.