So far there are no specific medications for COVID-19. But some drugs and the rapies have been proven to be effective in treating patients. Let's have a look at them.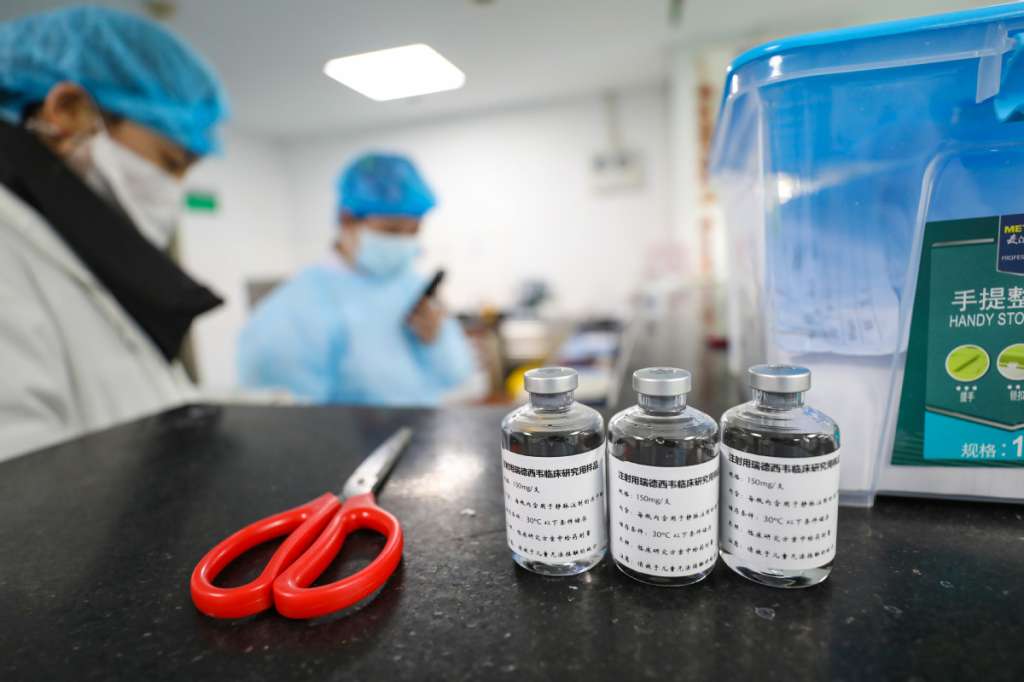 Infected patients are given Remdesivir, a drug undergoing trials, at a hospital in Wuhan, Hubei province, last month. [Photo by CHEN ZHUO/FOR CHINA DAILY] Remdesivir
An experimental drug created by United States biotech company Gilead Sciences to combat the Ebola virus. Scientists are conducting two trials on 761 patients at morethan 10 medical institutions in Wuhan, Hubei province.
The clinical trials are randomized, control-grouped, double-blind experiments. One is designed to assess Remdes ivir's potency on 308 people with mild or moderate infections, while the other features 453 severely infected patients, according to Cao Bin, who is leading the trials, at the launch ceremony last month.
Cao said studies have shown that Remdesivir is effective in arresting growth of the coronavirus in vitro, meaning the procedure was conducted on cells in a controlled environment outside of a living organism, typically in a petri dish or test tube.
A worker checks tablets on a chloroquine phosphate production line in Nantong, Jiangsu province, last month. [Photo/Xinhua]
Chloroquine phosphate
Developed in the 1950s to treat malaria, during in vitro tests the drug has shown the potential to inhibit coronavirus growth. It is being tested on 135 patients in hospitals in Beijing and Guangdong province, and a trial in Hunan province is in the pipeline, said Xu Nanping, vice-minister of science and technology.
Of the patients tested, 130 have mild or moderate symptoms, while five were in critical condition, he said. After the drug was administered, there was no deterioration in all the tested patients' conditions. Four of the five critical cases recovered, and the status of the remaining one rose to "moderate".
Zhong Nanshan, China's leading epidemic control expert, said early clinical results show that after taking the drug for four days patients tested negative for the virus. However, the results have not been confirmed via rigorous control experiments, so it is too early to say if the drug is effective, he added.
Zhong said some experts have expressed concerns about the drug's safety, saying it could cause sudden death if the dosage exceeds the 2-gram safety limit.
"Currently, test patients receive about 1 gram of the drug per day, which is well within the safety limits," he said, adding that some adjustments to dosage will be made in light of the drug's accumulation in the body, especially for patients with heart disease.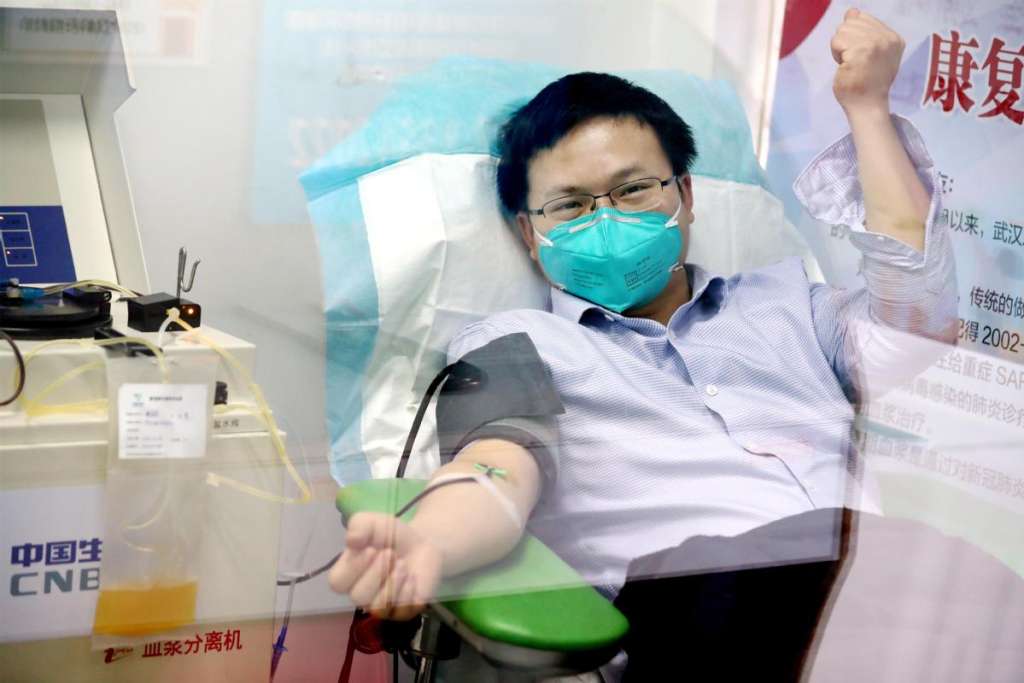 Zhang Zhengle, who has recovered from novel coronavirus infection, donates plasma at Hubei General Hospital in Central China's Hubei province, on Feb 16, 2020. [Photo by Zhu Xingxin/China Daily]
Plasma transfusion therapy
Plasma, the liquid part of blood, contains important proteins and other substances crucial to overall health. Transfusion therapy sees people injected with plasma collected from patients who have recovered from the coronavirus, which contains antibodies that may be effective against the disease.
"Scientists have reached a consensus that this treatment is safe and effective for patients in critical condition," said Guo Yanhong, an official with the National Health Commission, adding that the treatment has been used to combat severe acute respiratory syndrome and Ebola.As of Feb 28, a total of 544 recovered coronavirus patients had donated plasma to 245 critically ill people. As a result, 91 registered an improvement, Guo said.
Wang Guiqiang, head of the Department of Infectious Diseases at Peking University First Hospital, said the plasma collection process is safe and highly regulated.
About 200 to 300 milliliters of pure plasma are drawn from donors at each session. "The donor's plasma level recovers within a week or two, with very few side effects," he said.
However, experts and the latest treatment guidelines advise recovered patients to undergo checkups for two weeks after leaving hospital, and to ensure they are fully healthy before donating.
Moreover, plasma transfusion therapy requires blood-type compatibility, which limits its scale-up capability.
As a result, China has been boosting efforts to encourage former patients to donate plasma.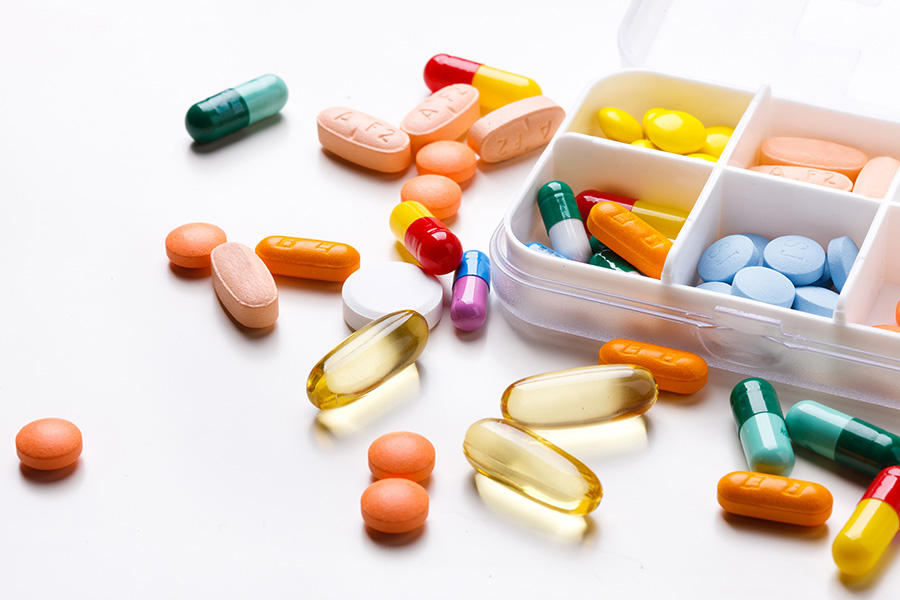 Favipiravir
It is an antiviral drug developed in Japan to be used against many viruses built around ribonucleic acid-a substance essential for human life-including the novel coronavirus.
The drug is currently undergoing a controlled experiment on 80 patients in Shenzhen, Guangdong province, and has shown promising early results, Xu, the vice-minister, said.
He said experts have advised expanding the clinical trials to confirm the drug's potency. In 2017, the Japanese government listed Favipiravir as one of its strategic medicines against future flu outbreaks.
The Third People's Hospital of Shenzhen, the establishment conducting the clinical trial, said patients taking Favipiravir are improving with no obvious adverse effects.
That means it is safer than Lopinavir/ritonavir, an anti-HIV drug that is also being tested for efficacy at the institution but has shown obvious side effects, the hospital said.