【前言】
在IACCR疫情报告的第三期,我们把目光投向了中国一直以来的忠诚伙伴——巴基斯坦。在我国疫情初期,巴基斯坦曾举国倾力相助,令许多国人动容。然而现在,巴国国内疫情正在急剧恶化,短短一周内确诊近3万人,目前总数已突破10万,且仍未到达转折点;同时,这个并不富裕的发展中国家面临着数十年来首次经济衰退的威胁,被迫采取解封政策。可以说,巴基斯坦的战疫前景不容乐观,那里的人们需要得到更多支援。
Report on the epidemic in Pakistan
[Preface]
This is the third IACCR outbreak report and now we turn our attention to China's ever-loyal friend, Pakistan. In the early days of the epidemic in China, Pakistan provided us with full support, which deeply touched our hearts. Presently, however, the epidemic in Pakistan is worsening rapidly, with nearly 30,000 people diagnosed in just one week. At present, the total number has topped 100,000 and the turning point is still far from coming. At the same time, this developing country is facing the threat of the first economic recession in decades and is forced to adopt the lock-down lifting policy. Apparently, Pakistan's prospects of fighting the war against the epidemic are not promising and people there need more support.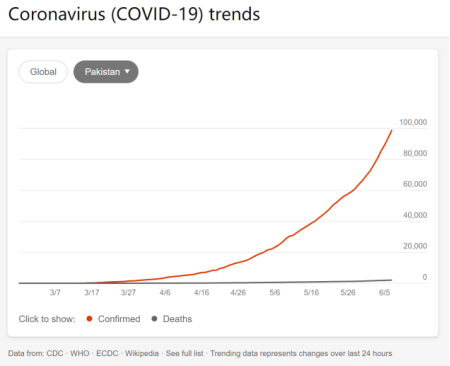 巴基斯坦是位于南亚的发展中国家。根据2017年的普查数据,该国人口为2.08亿人,95%以上的居民信奉伊斯兰教,是仅次于印尼的世界第二多人口的伊斯兰教国家。截至6月8日8:19,巴基斯坦官方公布在过去的24小时内确诊病例4728例,保持该国单日确诊数不断升高的态势。截至当日,巴基斯坦新冠病毒确诊病例103662例,死亡2067例,治愈34355例,其中疫情最严重的区域是信德省(38108例)和旁遮普省(38903例)。
Pakistan is a developed country located in South Asia. According to the 2017 census, the country has a population of 208 million and more than 95% of its inhabitants are Moslem. It is one of the world's most populous Islamic countries, second only to Indonesia. As of 8:19, June 8, Pakistan officially announced 4728 confirmed cases in the past 24 hours, keeping the country's confirmed cases per day continuously increasing. As of the same day, confirmed cases mounted 103,662, death toll reached 2067 and cured, 34355. The worst hit areas were Sindh(38,108 cases) and Punjab (38,903 cases).
5月以来,巴基斯坦的疫情始终没有得到有效控制。
据中巴经济走廊资讯消息,自巴基斯坦政府5月初逐步放松对城市的封锁后,国内新冠肺炎疫情有所反弹。对此,巴基斯坦抗疫指挥和行动中心(NCOC)16日警告贸易从业者,不遵守防疫标准操作程序(SOPs)将导致市场关闭。巴负责国家卫生服务的总理特别助理扎法尔·米尔扎多次表示,如果情况继续恶化,不排除再次实施"封城"的可能。其实早在4月底,世卫组织即警告巴当局,若巴方不能采取更为有效的行动,7月中旬确诊病例将达到20万例——如今看来这个预测甚至过于乐观。虽然内外各界皆传递出对巴国疫情高度关注的信号,但疫情仍然在巴基斯坦迅速扩散,且仍未到达转折点,抗疫前景不容乐观。
Since May, the epidemic in Pakistan has not been effectively controlled.
According to information from the China-Pakistan Economic Corridor, since the Pakistani government gradually eased the city's lockdown in early May, the COVID-19 epidemic has experienced a rebound. In response, Pakistan's National Command and Operation Center(NCOC) warned trade practitioners on the 16th that non-compliance with Standard Operating Procedures(SOPs) for epidemic prevention will lead to market closure. Pakistan's special assistant to the Prime Minister in charge of national health Services, Zafar Mirza, has repeatedly stated that if the situation continues to deteriorate, it's possible that the cities would be lockdown again. In fact, as early as the end of April, WHO had already warned the Pakistani authorities that if Pakistan could not take a more effective action, the number of confirmed cases in mid-July would reach 200,000 cases, a prediction that seems to be too optimistic now. Despite the concerns expressed by all countries from all walks of life, the epidemic is still spreading in Pakistan and not yet reached a turning point. Pakistan's prospects of fighting the war against the epidemic are not promising.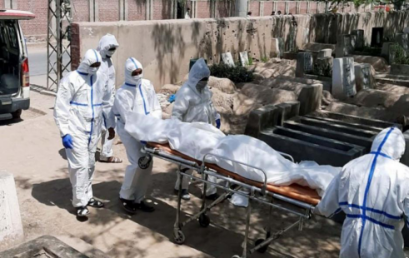 来源:Daily Pakistan
笔者认为,巴国疫情未得到控制,原因主要有以下几点:
第一,政局不稳,人口众多,经济发展缓慢,解除封锁保经济迫在眉睫。
巴基斯坦政权几乎由民主选举政府和军方政府每隔十年轮番掌握,国内政教情况错综复杂,长期经济建设没有政治保障。该国GDP增速在2008年世界经济危机时降到1.70%,此后增长缓慢,一直没有妥善解决高生育率下的劳动人口充分就业的问题。巴国贫富差距较大,人口密度大,城市基础设施建设落后,导致贫民窟众多。不可忽视的还有当地持续一年的蝗灾对粮食产量的重创。如果为应对疫情而持续封锁市场,会加剧失业问题,引发社会动荡。世界银行最近发表报告指出,新冠肺炎疫情影响可能导致巴基斯坦人均收入大幅下降,68年以来首次陷入经济衰退。
在此背景下,巴政府被迫采取解封政策,5月9日曾宣布分阶段放松管控。在疫情并不乐观的情况下,上周一(6月1日),伊姆兰·汗总理表示,除了在"负面清单"的行业将继续关闭(主要是教育领域),其他"一切领域"都将打开。
他解释说,巴基斯坦政府清楚中国武汉和欧洲抗疫的应对方式,但是和这些地方有些不同,巴国25%的人口生活在贫困线以下,这意味着近5000万人每天无法吃到两顿全餐。医生、精英和穷人都有不同的意见,但底层人民的声音没有被听到。巴基斯坦需要走自己的路。他说,"(巴基斯坦)不应该停止商业和建设,因为我们必须平衡它。在疫苗不配制之前,冠状病毒不会消失。我们必须忍受它。"同时,他也敦促各行业确保执行官方发布的防疫标准操作程序(SOPs)。
From our point of view, the reasons why the epidemic in Pakistan has not been brought under control are as follows:
First, the political instability, large population and slow economic development make it imperative that the lockdown be lifted to preserve the economy.
Pakistan's political regime is alternated almost every 10 years between a democratically elected Government and a military Government. The complex political and religious situation in the country has long been in a state of flux. There is no political security in building the economy. The country's GDP growth rate fell to 1.70 per cent during the global financial crisis in 2008 and without a proper solution to the problem of full employment of the working population in the face of high fertility rates, the number has remained in a low profile since then. In addition, the inequality between rich and poor is serious, and the population is densely populated, with poor urban infrastructure, resulting in a large number of slums. The impact of the year-long locust epidemic on food production should not be overlooked. The continued closure of markets in response to the epidemic could exacerbate unemployment and cause social unrest. According to a recent World Bank report, the impact of the COVID-19 epidemic is likely to lead to a significant drop in per capita income in Pakistan, which would lead to its first economic recession in 68 years.
Against this backdrop, the Pakistani government was forced to adopt an easing policy— a phased easing of controls announced on 9 May. Last Monday (June 1), Prime Minister Imran Khan said that, while the industries listed on the "Negative List" will remain closed(mostly in education sector), every other industries will be opened.
He explained that the Pakistani government know exactly how Wuhan, China, and Europe are combating the epidemic, but unlike those places, Pakistan is not a country that is capable of responding to the epidemic in a proper way, since 25% of their population are in poverty, which means that nearly 50 million people do not have access to two full meals a day. Doctors, the elite and the poor all have their own voice, but the voice of the underclass is not being heard. Pakistan needs to pursue its own way. He said, "(Pakistan) should not stop doing business and developing because we have to balance between the control on the epidemic and our livelihood. Until the vaccine is not formulated, the coronavirus will not go away. We have to live with it." He also urged the industries to ensure implementation of the officially issued Standard Operating Procedures (SOPs).
第二,国内伊斯兰人口众多,宗教氛围浓厚,且恰逢斋月。
对于穆斯林而言,斋月是一年中最尊贵、喜庆的月份,斋月结束的第二天是穆斯林的开斋节,伊斯兰的两大节日之一。在这段时间,各类商品贸易也会更加频繁,是当地的销售旺季。同时,这也是各个宗教团体接受善款和募捐的重要时机。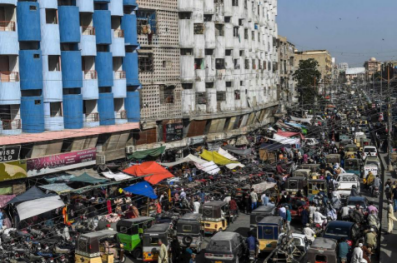 Motorists and people gather at a market for shopping ahead of the Muslim Eid al-Fitr festival in Karachi on May 20, 2020. (来源:AFP Photo)
由于新冠疫情,并非所有穆斯林国家都开放清真寺,但是由于巴基斯坦国内宗教领导的强硬意见以及政府提振经济的考虑等因素,斋月和开斋节如期举行,也意味着之前的封锁措施部分解除。与此同时,抗疫保障措施显然没有得到落实——有专家建议政府以宣传为主,不过多干预百姓行为,但其结果正如巴国一些批评声音指出,开斋节前后设定的宽松政策、恢复运营的市场环境,都导致民众对疫情的严重性认识不足。根据当地媒体的报道,节日期间,民众带着愉悦、放松的节日心情("with the satisfaction in mind")出门,许多市场、购物中心、餐厅、电影院、游乐场等都开放了,百姓大量聚集,只有不到5%的人采取了戴口罩等防疫措施。这可能是导致六月初疫情急剧反弹的直接原因。
Second, the country has a large Islamic population and a strong religious atmosphere, and the epidemic coincides with Ramadan.
For Muslims, Ramadan is the most noble and festive month of the year, and the day after Ramadan ends is the Muslim festival of Eid al-Fitr, one of the two major festivals of Islam. During this time, there is also more frequent trade in various goods and it is the peak season for local sales. It is also an important time for various religious groups to raise and receive donations.
Due to the epidemic, most Muslim countries are keeping their mosques closed, but due to the strong demand of religious leaders in Pakistan and the country's need to boost their economy, Ramadan and Eid al-Fitr took place as scheduled, which meant that the previous lockdown was partially lifted. At the same time, it is clear that the prevention and control measures against the epidemic are not being implemented - some experts suggest that the Government should focus on awareness-raising and not interfere too much in people's behaviour. However, the result, as some critical voices in Pakistan have pointed out, is that the relaxed policies set around Eid al-Fitr to resume the operation of the markets, has led to a lack of public awareness of the seriousness of the epidemic. According to local media, during the holiday season, the population is in a happy, relaxed holiday mood ("with the satisfaction in mind"), many markets, shopping centers, restaurants, movie theaters, and Amusement parks and other places were open. People gathered in large numbers, and less than 5 percent of the population took precautions against the disease, such as wearing masks. This may have been the direct cause of the dramatic rebound of the epidemic in early June.
第三,卫生医疗水平低,相关抗疫用卫生物品生产困难。巴基斯坦于2000年成为联合国千年发展目标的签署国,为此在2001年调整了国家卫生政策,并开始启动预防办法和保健方案,公共卫生设施有所增加,但是巴基斯坦人口增长已导致对医疗保健的需求未得到满足,解决重大健康问题的公共医疗机构通常只设在主要城镇。
与中国等国家不同,巴基斯坦没有应对大范围疫情的医疗系统,国内防疫设备稀缺或因为缺乏更新而落后老化。3月底,巴国超过7600加医疗机构中只有215家具备隔离条件,隔离病床是2942张。旁遮普作为巴国大省,只有24家医院配备共计160架呼吸机。4月时,当地曾在13名医生确诊后抗议医疗物资条件不足而无法工作,最终多人被捕。目前,随着巴国感染人数破10万,国内医疗系统已经岌岌可危,床位告急,呼吸机不足;3088名医务人员确诊,其中29名死亡。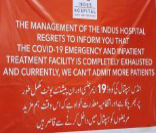 A banner outside Karachi's Indus Hospital announces to reach full capacity.
Thirdly, the level of health care in Pakistan is low and there are difficulties in the production of health-related commodities to combat the epidemic. Pakistan became a signatory to the United Nations Millennium Development Goals (MDGs) in 2000, and as a result, their national health policy was restructured in 2001. While the Government of Pakistan had begun preventive approaches and health-care programmes, and has boosted the advancement of public health facilities, population growth in Pakistan had led to an increase in the people's demand on healthcare, which is still unmet. In addition, public health facilities to address major health problems are often located only in major towns.
Unlike countries like China, Pakistan does not have a health care system to deal with widespread epidemics, and preventive equipment in the country is scarce or outdated due to lack of upgrades. At the end of March, only 215 out of more than 7,600 health facilities in Pakistan were capable of segregation, and segregated beds were merely 2942. In Punjab, there are only 24 hospitals with a total of 160 ventilators. After 13 doctors were diagnosed with the disease, people protested against the lack of medical supplies and the inability to work, resulting in many arrests. Currently, with the number of infected people in the country topping 100,000, the country's health system is in a precarious state, with a shortage of beds and respiratory equipment. 3,088 medical staff were diagnosed, 29 of whom died.
第四,防疫标准操作程序(SOPs)普遍未得到严格遵守,无法实现提振经济与抵抗疫情的平衡。具体原因可能有以下几点:
Fourth, Pakistanis have not strictly followed standard operating procedures (SOPs), so they cannot achieve a balance between boosting the economy and resisting the epidemic. The specific reasons include the following:
首先,规则的制定过程与结果受到质疑。例如当地媒体5月18日报道,很多交通行业的从业者拒不执行SOPs,认为其要求乘客间隔落座的规定导致收入大幅下降而没有相应的税收减免,并指责规则制定者事先未提前听取他们的意见。
First, the rule-making process and its result were questioned. For example, on May 18 , it was reported by local media that transportation practitioners refused to follow SOPs, they argued that regulations about separation distance caused a great income decline, there was no tax relief for that situation, and they complained that those rule makers didn't listen to opinions from them before.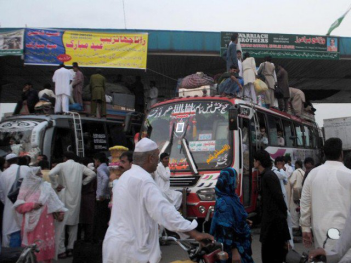 All transporter bodies except one oppose new SOPs
(来源:https://www.pakistantoday.com)
其次,SOPs 的违反成本很低。巴基斯坦到处都是违反SOPs的人,导致这套程序更像是一个宣传口号。近几日,官方表示将加强行政执法力度,希望后续有所改善。
Second, the cost of SOPs violation is very low. Many people around Pakistan has not been following SOPs, making this procedure more of a slogan). Recently, officials said that they would enhance law enforcement, they hope the situation will be better in the future.
最后,SOPs的推行没有与之匹配的宣传,民众不理解其重要意义。根据DailyPakistan报道,民间广泛存在对SOPs影响开斋节正常举行的不满。这间接说明SOPs尚未在宗教气氛中有效立足;Newsweek Pakistan 最新发表(6月4日)的一篇社评则直接指出,各界对新冠疫情的严重性说辞不一,夸张有之、轻视有之,而权威的医疗知识普及缺位,是导致民众心理懈怠而不遵守SOPs的主要原因。
Finally,without proper propaganda, the public didn't understand the significance of SOPs . According to DailyPakistan,there has been a public dissatisfaction toward SOPs for breaking the schedule of Eid Al-Fitr, which implied that SOPs still didn't get support from religious crowd. On 4 June, an editorial by Newsweek Pakistan showed the various opinions toward the seriousness of epidemic, with exaggeration or with contempt. Besides, the lack of public medical knowledge from authority, is the main reason why the public slacked off (the epidemic) and violated SOPs.
疫情之外,巴基斯坦还面临着其他威胁。
Apart from epidemic, Pakistan has been facing more threaten.
首先是蝗灾持续造成极大破坏。2019年5月以来,印度、巴基斯坦等国遭遇大规模蝗灾。前者在2月中旬宣布蝗灾基本结束,但是巴基斯坦仍然持续受到侵扰。据报道,巴基斯坦遭受的是自1993年以来最严重的蝗虫袭击,该国对此基本上毫无准备。联合国粮食及农业组织(FAO)估计,今年蝗灾对巴国农业造成的损失可能高达3530亿卢比(合22亿美元),用于小麦和马铃薯等冬季作物,夏季作物损失约4640亿卢比。巴基斯坦木尔坦食品和安全部理事会成员则在5月20日参与"中巴经贸热线云沙龙-联手治蝗"时表示,下一波蝗灾可能在六月爆发。
First, locust had brought a lasting devastation. Since May 2019, Locust had swept countries like India, and Pakistan. India announced that the locust plague was almost over in mid-February, but Pakistan still faced a lasting threaten. It was reported that what Pakistan had suffer from was the most serious locust plague since 1993, and they were not prepared for this. The United Nations' Food and Agriculture Organization (FAO) estimates losses as high as 353 billion rupees(about $2.2 billion )to agriculture from locusts this year to winter crops like wheat or potatoes and nearly 464 billion rupees for summer crops. On 20 May ,during the China-Pakistan Economic and Trade Hotline Cloud Salon-Joint Locust Control, an officer from Pakistan's Ministry of National Food Security & Research said the next wave of locusts was expected to break out in June.
其次,近期与印度在克什米尔问题上爆发大规模冲突。两国在该地区的矛盾由来已久,近期联合对抗蝗灾的短暂合作结束后,便再次暴露出来。5月6日,Daily Pakistan报道印度军方杀死了两名克什米尔青年;印度媒体5月31日指责巴基斯坦违反停火协议导致平民受伤。 Pakistan Today在五月中旬报道,克什米尔的断网措施还影响到了追踪新冠疫情患者。
Second, a large-scale conflict with India recently broke out on the Kashmir issue, which has had a long history. After the short-term joint cooperation against the locust, the conflict was exposed again. On 6 May, Daily Pakistan reported that the Indian military had killed two Kashmiri youths; on 31 May Indian media accused Pakistan of violating the ceasefire agreement and causing civilian injuries. In mid-May Pakistan Today reported that Kashmir's blocking of internet also affected the tracking of COVID-19 patients.
而在巴基斯坦内部,宗教恐怖袭击持续不断。根据国内关注海外华人安全的刺猬安全、中安华盾等安保企业报道,目前巴国的恐怖袭击打击力度虽然很大,但是仍然有很多宗教极端暴恐威胁各地的安全;尤其是宗教与传统节日前后,"伊斯兰国恐怖组织常针对政府与军警设施、什叶派穆斯林或基督教的宗教集会以及人口稠密地区发动袭击"。根据上述企业的非官方统计,巴国反恐部门在5月中旬即挫败了数起恐怖袭击活动,击毙了近10名恐怖分子。
Inside Pakistan, religious terrorist attacks never stopped. According to reports from Chinese security companies such as Hedgehog Safety, Zhongan Huadun who had concern over the safety of overseas Chinese, although Pakistan had intensified efforts to fight terrorism, their safety had still been threatened by those religious terrorist and violent extremist ; especially around religious and traditional festivals , "Islamic State terrorist organizations often launch attacks against government, military and police facilities, Shia Muslim or Christian religious gatherings and densely populated areas." According to the unofficial statistics of the above-mentioned enterprises, in mid-May the Pakistani anti-terrorist department thwarted several terrorist attacks and killed nearly 10 terrorists.
除此之外,巴基斯坦当地的华人报刊《巴基斯坦华商特刊》5月26日撰文表示了对当地民众心理健康问题的担忧。文章表示,巴基斯坦全国只有500名心理医生,每年医学心理专业毕业的学生飞铲少。近几个月,以新冠肺炎疫情和罕见蝗灾为主的多重打击让巴基斯坦失业人数急剧增加,家庭暴力明显增多,因居家隔离所引发的老人与儿童的孤独症、焦虑症、偏执症大幅增加,清真寺的祷告聚集也并无益于问题的解决,可能导致宗教极端势力有机可乘、恐怖活动死灰复燃,引发更多的刑事犯罪。
On 26 May the Pakistani Chinese newspaper "Huashang Weekly" wrote an article to express concerns about the mental health of local people. According to this article, there were only 500 psychologists in Pakistan, and there are fewer students who graduated in medical psychology every year. Recently, because of the COVID-19 and the rare locust plague, there has been a great increase in the number of the unemployed and domestic violence in Pakistan. Meantime, the home isolation had caused a huge increase in the autism, anxiety and paranoia among the elderly and children. It was not helpful to gather and pray in mosques, on the contrary, it might increase the risks of religious extremism, terrorism activities and eventually cause more crimes.
另一方面,目前,巴基斯坦的抗疫也有着强大的助力。
On the other hand, Pakistan is also of great advantages in epidemic resistance.
在过去十年中,巴基斯坦在经济领域大力发展互联网智能。3G/4G技术的引入、互联网普及率的提高以及新兴的创业生态系统,推动了新一轮的创新浪潮。在医疗领域,6000万巴基斯坦人拥有智能手机,可以有效使用网络医疗信息、预约医生、订购药品以及请求参与医学实验,还有一些创业公司在开拓医疗数据线上保存与维护等服务。在社会救助领域,巴联邦工业与生产部长哈马德·阿扎尔(Hammad Azhar)4月28日表示,正在与Ehsaas团队合作建立一个门户网站,人们可以在该门户网站上申请该救助计划。在生活方面,巴基斯坦也已经有较为成熟的网购、外卖平台。
In the past decade, Pakistan had vigorously developed Internet intelligence in the economic field. A new wave of innovation was driven by the introduction of 3G/4G technology, the increase in Internet penetration and the emerging entrepreneurial ecosystem. In the medical field, 60 million Pakistanis have smart phones, they could get access to online medical information, make appointment with doctors, order medicines and request to participate in medical experiments. There were also some startups that were developing online medical data preservation service. In the field of social assistance, Hammad Azhar , Federal Minister for Industries & Production Division, said on 28 April that he was working with the Ehsaas team to establish a portal on which people can apply for the assistance plan. In terms of life, Pakistan also has a well- developed online shopping and takeaway platform.
疫情期间,以中国为主的各界支援不断送往巴基斯坦。根据当地媒体报道,巴基斯坦于4月26日晚收到了来自中国的一批重达18吨医疗设备的支援物资,此后最多可以进行40,000次病毒检测。巴国家灾难风险管理基金会(NDRMF)与国家灾难管理局(NDMA)合作,从中国采购了价值5000万美元的医疗设备。中国政府和在巴中国人民和公司的医疗捐赠使成千上万的一线医务人员能够保护自己免受病毒感染。
During the epidemic, Pakistan has received continuous supports from China. According to local media , on the evening of April 26, Pakistan received a 18-ton-weight medical equipment from China, which could run 40,000 virus tests. The National Disaster Risk Management Fund (NDRMF) has collaborated with the National Disaster Management Authority (NDMA) to purchase medical equipment worth $50 million from China. Thousands of front line medical staffs were able to protect themselves from infection by medical donations from the Chinese government ,Chinese people and their companies in Pakistan.
巴基斯坦驻华大使娜格玛纳·哈什米在接受中国经济网采访时说,"感谢中国政府及社会各界为巴基斯坦提供的大量医疗用品和物资。中国人对人类同胞生命健康的关切不仅体现出一种博爱的品格,也让我深刻感受到中华文明和平、仁爱的特质。"
"I must appreciate our donors for providing us with the abundant supply of urgently needed medical provisions. Their magnanimity and concern for health and safety of fellow human beings is not only a manifestation of their humane character but also offers an insight into peaceful and benevolent traits of Chinese civilization." Naghmana Hashmi,Pakistan Ambassador to China, said in a Chinese Economic Net interview.
疫情的到来,也促进中巴开展"数字丝绸之路"的共同建设,加深智能领域交流,使物联网、5G、人工智能、云计算等一系列数字化技术和服务惠及更多普通民众。
The epidemic also promoted the joint construction of China-Pakistan Digital Silk Road. With more interaction on the intelligent field, more citizens would be benefited from various digital techniques and services, such as Internet of Things, 5G, artificial intelligence and cloud algorithm.
根据《巴基斯坦华商特刊》较早时候的报道(4月8日),亚洲开发银行(ADB)准备向NDRMF拨款约1.05亿美元,用于购买更多医疗设备,届时这些医疗设备将通过NDMA分发给巴联邦和各省份。世界银行将为此目的向巴基斯坦提供6000万美元支援。NDRMF与法国开发银行的谈判即将结束,贷款金额为40至4500万美元,用于购买更多医疗设备。
According to report by "HuaShang Weekly" on 8 April, the Asian Development Bank (ADB) is funding around $105 million to the NDRMF for procuring more medical equipment, which would be provided to the federation and the provinces through the NDMA. The World Bank (WB) would also give $60 million to Pakistan for the purpose. Negotiations are nearing conclusion with the French Development Bank for $40 to 45 million to procure more medical equipment.
在国内外各界的努力下,5月16日,巴计划部长乌迈尔表示,新冠确诊检测实验室已经增加到70个,检测能力提高30倍;6月3日,新华网报道,巴基斯坦正加大新冠病毒检测力度,过去24小时内共进行17370次检测,已累计进行约59.5万次检测。各类医疗物资的储备也在跟上。
Minister for Planning Development Reforms and Special Initiatives Asad Umar said on 16th May that with the efforts from home the abroad, their test capacity has increased by around 30 times, the country has 70 labs to test Covid-19 samples. According to a report by Xinhua Net on 3rd June, Pakistan had increased their efforts on test, the new infections were detected after conducting a maximum of 17,370 tests in a day. The authorities have so far carried out 595 thousands tests in the country. The reservation of medical supplies were catching up.
【结语】
IACCR将加强对亚太非成员国家的关注,为下一步行动部署做准备。
Conclusion
IACCR will pay more attention to the members of Asian-pacific and Africa area, we are in preparation for the next step.
作者:全球疫情报告小组
撰写:西米
资料搜集:雷萌李心玉刘书妙张思瑾
资料翻译:栗维一郑晨