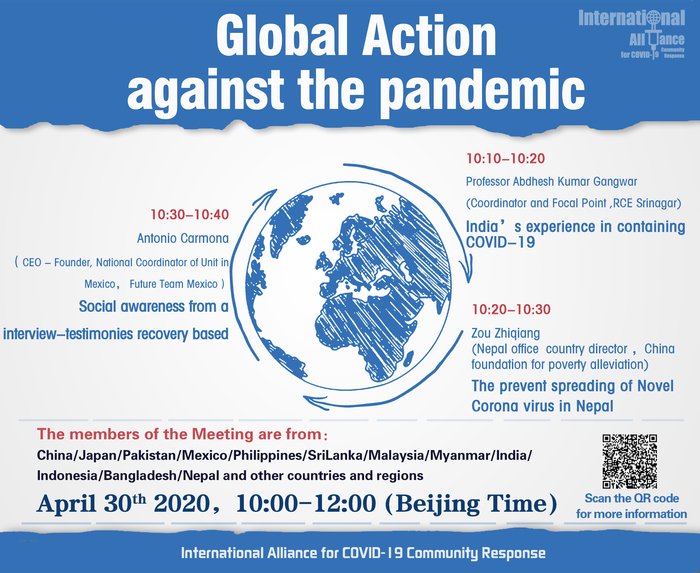 Theme: Global Action against the pandemic
Date and Time: April 30th 2020,10:00-12:00(BeijingTime)
Moderator: Ms. Wang Liao(Coordinator of IACCR)
PartI. Technical Seminar
1.India's experience in containing COVID-19
Abdhesh Kumar Gangwar (Coordinator and Focal Point, RCE Srinagar): Good morning, everyone. I will talk about some of the status and experience of India's epidemic control.
We hope to control the epidemic. We are conducting some tests, but we have not done many experiments. We currently have insufficient kits, so we are looking for ways to import materials from the United States, China, and other countries to control the epidemic as effectively as possible. We have also borrowed experience from countries such as Indonesia and China. India has a risk management system and has achieved good results. We hope to cooperate with China, Barquista and other countries. As I said before, India is currently short of kits. Italy was the most severe country before, but they have kits. So we hope that through this meeting we can listen to your opinions.
The following is the basic situation in India: There are about 700 kits in India. What we hope to do is to obtain more kits to deal with the epidemic. At the same time, we have also established some volunteer organizations, hoping to get some feedback from them, so in order to get more kits and learn more measures to deal with the epidemic, we hope to get advice from the World Health Organization.We believe that through some effective methods, such as the establishment of some effective models or timely delivery of patients to the hospital, these timely measures to prevent and control the epidemic. About 14% of the people are gradually recovering and discharged. We still have a long way to go, and we hope to do our job well.
The epidemic may last for a year, and we hope that the following work can be done well. We hope to increase the number of masks and volunteers. Many people in India are unemployed because of the epidemic, and the same is true globally. Due to the impact of the epidemic, many people were unemployed or out of school, and some companies such as banks were also affected. Children cannot go to school normally. We hope to introduce more equipment and resources. I think China's experience is very effective. I hope to maintain close cooperation with China and hope to get through this epidemic through cooperation. There are a lot of people behind us who support us, we are very grateful, and we are confident to win this battle. We have established cooperative relations with some countries and organizations. Although the situation in India is not very good, there are already signs of improvement. Due to isolation, it is not convenient for some people to obtain food. We will send people to distribute food and other materials to them. We hope that we can help each other internally. We have also introduced some ventilation equipment to prevent and control the epidemic. It is a global epidemic, so we hope that more advisors and policy makers will join together to cope with the epidemic. From an epidemiological point of view, we have learned a lot from China, and we also need to learn some lessons from this epidemic.
The last point is equally important. Due to the epidemic, many people were isolated at home, and the supply of many materials became very difficult. We have therefore introduced many advanced response systems. We still have a lot of work to do, and we will insist on doing our job well. As mentioned before, we need to learn some lessons and lessons from this epidemic. I just agreed with a professor at Hokkaido University. I think human nature is very important in society, and many diseases are inevitable. People have many physiological and physical needs. Due to the impact of the disease, many people have suffered economic crises. We need to learn some experience to prevent some diseases in the future. Species are now declining sharply, and the blue sky and white clouds are also far away from us. We hope that all mankind can jointly meet this challenge.
2.The prevent spreading of Novel Coronavirus in Nepal
Zou Zhiqiang(Nepal office country director, China foundation for poverty alleviation): Hello everyone. I'd like to share my ppt with you. My part today is to prevent spreading of novel corona virus in Nepal. I come from CFPA Nepal Office and our program is very popular in Nepal now. I share this program to everybody and we welcome advice from you. CFPA public foundation is specializing in humanitarian aid and poverty reduction. It is conducted by CFPA in Nepal since 2015. There are more than 370000 people benefitted by CFPA's works in Nepal We have four major focus areas of education, health, disaster relief and community development.
Why we do this program? Because Nepal is more vulnerable due to open border with India and the rapid rise in the number of cases in India. So the situation is very serious. There is also a nationwide lockdown imposed in the country to curb the outbreak. While we discuss about this, I want to show the photos of local people. There is not enough information to the people of rural areas regarding epidemic, and its prevention.
A large number of people also face problems of food supply due to poor economic condition. We have no fund and we decide with another associations to get money to help them.
Hand wash is important, andsocial distance is a privilege for the rich only, so we started a program: To Prevent spreading of Novel Corona virus in Nepal; We give them hand wash. We also support the doctor and hospital. Nepal is also lack of water, so we provide 50 liter water storage bucket with Posters posted on the site, 500 ml hand sanitizer ,1 liter disinfectant and Project management training and supervision. This is our schedule(on the ppt) and project process. Now we focus on Long term station, how I can quickly fund more money. We also put our logo on it. This is beneficial group. Thank you!
3.Social awareness from an interview-testimonies recovery based
Antonio Carmona(CEO Founder, National Coordinator of Unit in Mexico, Future Team Mexico: First of all, on behalf of the members of the organization for Future Team Mexico and others, I would like to thank you for your participation. Today, our topic is public awareness from an interview-testimonies recovery based. Since the outbreak of COVID19, this has been a very socially responsible topic. Next, we will introduce our projects and some details through a cured patient in Mexico. Next week our focus will be on sports. Of course, we also want to raise the residents' awareness of active distance and self-isolation.
What I want to emphasize is that all issues revolve around the principle of sustainable development, not only at the community level, but we also know that under this outbreak, all sectors of society have been impacted, and we need to raise public awareness -- globalization awareness, crisis awareness, self-worth awareness. For example, as an individual, how should I deal with COVID-19? For humans, it is important to raise awareness in the face of this outbreak. In the first week our focus is on the residents of Europe, Africa and Asia, including workers, students, practitioners, politicians, ngos, volunteers, etc. The second week focuses on patients who have been cured in Mexico, making their medical information public.The third week focuses on experts' advices.
Part II.Key note Speeches by Participants
1.Social awareness from an interview-testimonies recovery based
Prof. Miguel Ángel Bravo Araiza (Future Team Mexico): Hello everyone, very happy to have this opportunity to share some experience in this outbreak. We have learned experiences and lessons from other countries in this epidemic, and we will also take the initiative to share some of our experiences and lessons. We interviewed 5 volunteers, one of whom was an expert in India. He told us that at the beginning of April, new cases of infection had appeared in India. At the same time, he described the impact of the outbreak on India's economy and politics, and described how the outbreak affected Bangalore's economy. For Mexico, how India responds to the epidemicis crucial. Another interviewee came from Brazil. As you know, Brazil is also one of the countries most affected by the epidemic. Prior to this, the Brazilian government did not pay much attention to the epidemic, so experts predicted that the Brazilian would experience a substantial economic recession and political crisis. After re-interviewing, we learned that there are many death cases in Brazil now, and the situation is getting worse. After we interviewed experts from Tunisia and Algeria, we found it important to protect ourselves properly during the outbreak.
In addition, in countries like Tunisia and Algeria, the economy is basically 100% dependent on oil exports, so the epidemic will have a severe impact on the economy. Therefore, we feel that in a country like this, the economy should expand towards industry, agriculture or other industries. We have also communicated and cooperated with some NGOs in the Middle East. We found it difficult to trace the where abouts of some patients in the Middle East, which posed a challenge to the epidemic research. Countries in the Central African region like Congo are also heavily dependent on oil, so the economy will be greatly affected during the epidemic.
Host: Do you major in economics?
Miguel Ángel Bravo Araiza: My major is about international relations and economics. Maybe next time we have the opportunity to discuss economic issues, because China is also experiencing such problems. I hopes we will have the opportunity to discuss this.
2.Social awareness from an interview-testimonies recovery based
Prof. Luis Enrique Puente Báez (Future Team Mexico): Professor from Nepal's talk will tell us that the epidemic has had an impact on both their physical and mental health, and I would like to share with you about an academic from Chile who, after our survey, found that there are big problems with governance, how public consciousness has changed before Chile and how public awareness has changed. When the government of Chile participates in the fight against the epidemic,we will find that the Chilean people have a strong sense of responsibility and social awareness. Local residents are actively participating in response to the outbreak of the local government and Latin American countries have established good ties with neighboring and close cooperation with national non-governmental organizations; Chile's government also actively contact around the city. The central government also promote local decentralization for other cities in Chile. For Chile, the people is a top priority for the government. Chile and the surrounding country level overall interests of the entire Latin American countries are beyond the borders as well as the overall limit. The region also actively welcomes other countries to join us. Next we invite professor.
3.Social awareness from an interview-testimonies recovery based
Lic. Gisel Sarahi Vergara Herrera (Future Team Mexico): In Mexico, we found cultural and artistic motivation in the fight against the epidemic. First of all, we
actively organized a group of artists. It can be seen from the picture that these artists come from different countries, which shows that our anti-epidemic measures have broken through the boundary and boundary restrictions.
Prof. Luis Enrique Puente Baez: I'm going to continue with the topic of art. Thanks to the advanced medical system in Canada and the active actions of the government, we have achieved positive results in the fight against the epidemic. In addition, the Canadian government has provided assistance to the community, not only to the general community, but also to support the development of artists. In the intervie, we found that the Canadian government not only directly provides financial support for arts, but also helps them prepare themselves during COVID-19.
Although the government provides financial support to the public, some vulnerable groups are unable to get financial support. Then the government will increase and continue to provide financial support. The government also guarantees workers at least 75 percent of their salaries. Through our investigation, we found that this action created a sense of solidarity and cooperation among the Canadian people.
Lic. Gisel Sarahi Vergara Herrera: What we've found is that in Canada people are actively reaching out not only to their communities, but also to the central government. First, I'd like to introduce a playwright who wrote a play against violence and violence by actively learning about the epidemic. Next one is a woman artist, who was actively researching and working on the preservation and development of local art. The next, a professional dancer, who was associated with dancers in Europe, and actively investigated how other dancers and artists fought the epidemic. Next, a singer who is also a choir member. The last, from the United States, actively taught dance classes during COVID-19, with students from the United States, Mexico, Peru and Chile.
Next, I'd like to talk about the rising stars in the future project in Mexico: we've been working with them for weeks. First, the first artist I want to introduce to you is from the nova art project. I think culture can also be counted as a part of personal consumption, in which our personal consciousness and personal space can be developed and we can also see changes in the real world. So, I want to emphasize the importance of art.
Second, the art market. I would like to share with you a website with many links to art works, art projects and art investments. Because in the past, the art community was specific, they would talk about specific art projects, but now they can let people know more about art.
Third, visual art, which is to show people the art form through conference video. In fact, it is not easy to show, because the performance is not around the audience or in front of the audience, there is a certain distance. But we want to do it well and, despite its limitations, improve people's appreciation and appreciation of art.
The last project is to draw the future world. Show the world how the good things of the future are similar. We also hope that this project will inspire more good things and inspire people to create a better future world.
Ms. Wang Liao (Coordinator of IACCR): I have a question for Future Team
Mexico, is about the culture of concern that was mentioned. Could you please talk about the impact on the current virus?
Lic. Gisel Sarahi Vergara Herrera: These projects have to do with the arts, and we want to extend these projects around the world to inspire people to create a better world. So, we focused not only on the artists themselves, but also on other industries, on realistic issues in the project.
4.Demands Assessment and Triage Service Under COVID-19
Emily, I You She: Hello everyone, today I want to talk about how social organizations carry out needs assessment and triage services under the epidemic. I hope that the work we have done can provide some reference for everyone to deal with the epidemic. First of all, I want to provide you with some examples. These pictures show that our volunteers provide materials and related services in some communities and help people communicate online. This is just a part of our daily work. Today my introduction is divided into 3 parts: first, how to discover service objects; second, needs assessment and classification; third, how to build services and referral mechanisms.
In terms of service, we have launched two kind of services: one is the epidemic prevention service, and the other is the demand response service. This is to help people in need to solve some social problems. The work we have done is based on many years of practical experience and the combination of our original business and epidemic prevention work. At the same time, we also have an emergency team formed by government and society.
So how should we discover service objects? In the first step, we opened a psychological assistance hotline, and people took the initiative to ask for help. Second, we take the initiative to care for vulnerable groups and screen service targets. In addition, we have expanded the scope of services to accept clients referred by some communities or other organizations.
How do we respond to the needs of clients? We evaluate the different levels of demand under the epidemic, and classify them according to the type of service require, the urgency of the demand, and the frequency of service. This is the 5 items we need to classify: Respect discovered COVID-19 patients、Consult epidemic Information、Purchase demand for protecting and living materials、Psychological demands 、Demands of the vulnerable for medical treatment, life care, health monitoring, and soon.
In order to provide high-quality services to combat the epidemic, we have established a service and referral mechanism.
This is our service organization: first is the work leadership group, which is responsible for policy decisions and relationship coordination. The second is the supervision group, responsible for personnel training. In order to improve service efficiency, we have divided it into three groups: administrative group, consulting group and caring group. The administrative group is mainly responsible for the implementation of the overall plan, including hotline answering, overall publicity, document storage and resource integration; the care group is mainly responsible for developing psychological services and caring for potential service targets.
Next is the service referral mechanism. If the government or community can refer tothe advisory group, they can provide some feedback in time. This table shows the contents of each group's work very intuitively. We need to cooperate with each other. Each group performs its own duties. We want to call on everyone to fight the epidemic together.
5.The situation on SriLanka
Aslam Saja Lecturer,South Eastern University of SriLanka: Absence
6.Experience in Prevention and Controlling for the COVID-19
Ma chao (CEER volunteer,team leader of the first-line anti-epidemic team ): Hello everyone, I am one of the team leader of the volunteer teams. This picture shows the packsack of the commandos of the Communist Youth League Committee, including: medicine, disinfectant, protective clothing, volunteer team clothing, etc. There are some necessary protective equipment. As a team, we have a lot of members, and to make sure everyone has alcohol, as a result, we buy alcohol on ourselves, and we distribute it in small bottles. Because of the high consumption of alcohol in the fight against the epidemic, we will distribute alcohol at night. Send N95 masks which by our own donations to Wuhan people's hospital in Hubei province.
This photo is a group photo of the team members, taken on the first day and postedin the Wechat. Everyone must be equipped with good epidemic prevention materials, especially do their own daily disinfection. Basically, as a volunteer, you have to protect yourself. Temperature measurement, vehicle disinfection one day in advance; After going out, wash hands, disinfection; When getting supplies, in the station garage, airport, etc. because of the early shortage of anti-epidemic supplies, will not wear protective clothing. But in the hospital facilities will be fully equipped: goggles, masks, protective clothing and so on. When leaving the hospital, remove gloves and spray alcohol to disinfect. Disinfect protective clothing, remove and place indesignated position.When receiving goods and materials, try not to get gather, after receiving materials, they are distributed to their respective areas; When you enter the hospital, you will be protected, you have to distribute supplies, you will disinfect your vehicles and clothes, and then you can go home. In addition, live alone at home. In short, outside hand protection, wash hands, disinfection. Do not remove the mask. Protective clothing is only worn in hospitals.
7.Professional's Response to Covid-19 Pandemic in Nepal
Sanjaya Uprety (PhD, Associate Professor Program Coordinator): Absence
8.Activities and plans for disability and COVID-19 in Myanmar
Myanmar Disabilities Alliance COVID-19 Response(MDACR): This is the situation of disabled people in Myanmar. Six of them have died, and more than 3,000 patients have been diagnosed in the country. Let's talk about our response from the perspective of disabled people. The families of the more than 3,000 patients have been quarantined. Our efforts in Burma include working with federal organizations.
The purpose of our training is to make preventive measures effective and to help patients effectively, and we hope to strengthen international cooperation to make the message effective. And we want to be able to provide these kits to people with disabilities, and we want them to be able to be helped, and in addition to that we provide counseling and moral support. Finally, we will focus on communicating with the government and relevant stakeholders to encourage their practical efforts and actions. First of all, we have a lot of equipment, and second, we will transport the isolated areas, because they can't contact the outside world. We provide supplies. Five percent of people with disabilities are unemployed. That's all.
9.TBD Zhang Guoyuan Dean, IACCR Convener: Absence
Part III.Open Discussion
YOSHI: Let me start with Japan. All countries are facing avery tense situation. I hope to share my experience and cooperation with you in this part. Most people are now isolated at home, and there are some volunteer activities in Japan. There are similar organizations in other countries: Italy, Wuhan. I have a little doubt why there are so few volunteer organizations in Japan, probably for fear of infection. So, I want to ask MaChao, how to protect ourselves.
MaChao:Take your temperature before you go out inthe morning. You can't go out until it's normal. Disinfect when you arrive home. The vehicle is equipped with alcohol and disinfectant. Contact with other things, to promptly disinfect. Because we have to go in and out of the hospital every day, disposable items we wear before going in need to be discarded and disinfected after discharge. The hospital disinfects the vehicle and disinfects itself. Take your temperature in the morning and evening. Disinfect your clothes and put them in special boxes.
EAP: I learned a lot through this session from Mexico, where culture can connect people. So the arts will stimulate our life, so I really appreciate what the future organization in Mexico is doing.
Antonio Carmona(CEO Founder, National Coordinator of Unit in Mexico,
FutureTeam Mexico):We need some material and moral support. The last time we Shared, we saw a lot of participants, a lot of events in China, a lot of videos on You Tube. We gathered the power of all people so that everyone could hear our message. Language can't stop us from communicating. Next, I will ask another speaker to share.
Lic. Gisel Sarahi Vergara Herrera: We are trying to deal with the epidemic, and we are very willing to share our experiences and information with you about how we can connect our labs to the lives of ordinary people, through email and so on, and if you need to, I will send it to you.
Antonio Carmona(CEO Founder,National Coordinator of Unit in Mexico,
FutureTeam Mexico): Thank you for your participation.
(The detailed information shared by our major speakers today has been placed into attachment.You are welcome to download and read it.)