IACCR Meeting 0417: Coping with Psychological Crisis under Epidemic, Key Takeaways
The fourth international online discussion forum on community response to the COVID-19 virus was held online on April 17th from 10:00 to 13:00, which themed by the " Coping with Psychological Crisis under Epidemic", focusing on helping people to set a positive attitude when facing various stress factors during the Epidemic.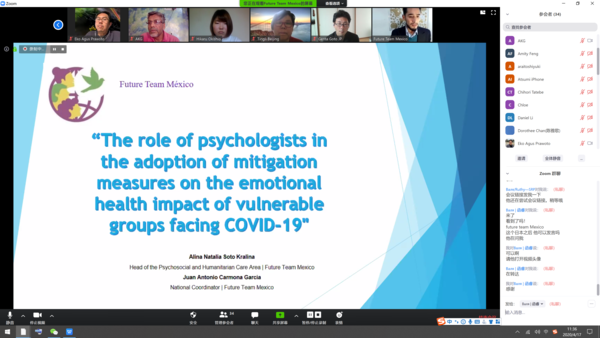 The participants come from China, Japan, Mexico, the Philippines, Sri Lanka, Malaysia, Myanmar, India, Pakistan, Indonesia, Russia, and local members from different countries reported their conditions and mental health challenges which brought by COVID-19.
In the first part, Alina Natalia, Head of the Psychosocial and Humanitarian Care Area, Future Team Mexico shared the important role of psychologists in the mitigation measures on the emotional health impact of vulnerable groups facing COVID-19. One of the recommendations is to contact our loved ones, coworkers and social circles, as well as establishing exercise routines and healthy lifestyles.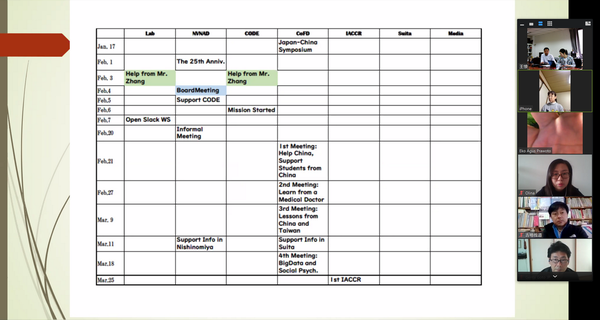 In the second part, Luo Xiao Lin introduced "How the eliminate the panic and labeling problem" She had pictured several situations. Including "Beware of Labeling", "Social Psychological Service" and "Community Support Cases."Showing some effective measures such as agency services that provide delivery and other life supports in terms of stop panic and region discrimination, as well as racial discrimination.
In the third part, the speakers shared Japan's experience in psychological support for citizens which anybody can do, especially for the seniors.
Hikaru Okishio, from Osaka University, shared the circumstance in northern Osaka. After hearing about the support for senior citizens in Wuhan from Mr.Xie, She came up with an idea of writing letters via online or the postal service. It turns out to be a great way to help those who are socially isolated.
There is also some valuable information such as"Cinema Debates as an aid in the emotional expression" and "How rumors affect our mental health." shared by volunteers from Mexico and Russia. For example, The"Cinema Debate" focuses on promoting emotional expression and generate sense of community. It transforms the way we see movies, into a new platform for learning and answer-seeking.