Highlights
· Italy has seen the most victims countrywide in the Covid-19 crisis. The epidemic situation in the northern region Lombardy is extremely brutal. Number of confirmed cases and death toll in several provinces and towns continue to rise dramatically; medical resources are oversaturated; mortality rate beats the record perpetually. Intensive care personnel and equipment have become a key limitation for expanding beds. This report takes Brescia province as an example to analyze;
· In addition to personal protection supplies, Chinese social organizations may also provide assistance of oxygen therapy equipment such as oxygen generators and respirators;
· Chinese social organizations may support Chinese diaspora community with experience of online medical consultation and companion as well as knowledge of personal protection;
· Refugee groups are facing lack of access to medical system, poor living conditions without proper personal protection, language or identity barriers; Chinese social organizations may consider to support these groups by cooperation with humanitarian organizations in Italy.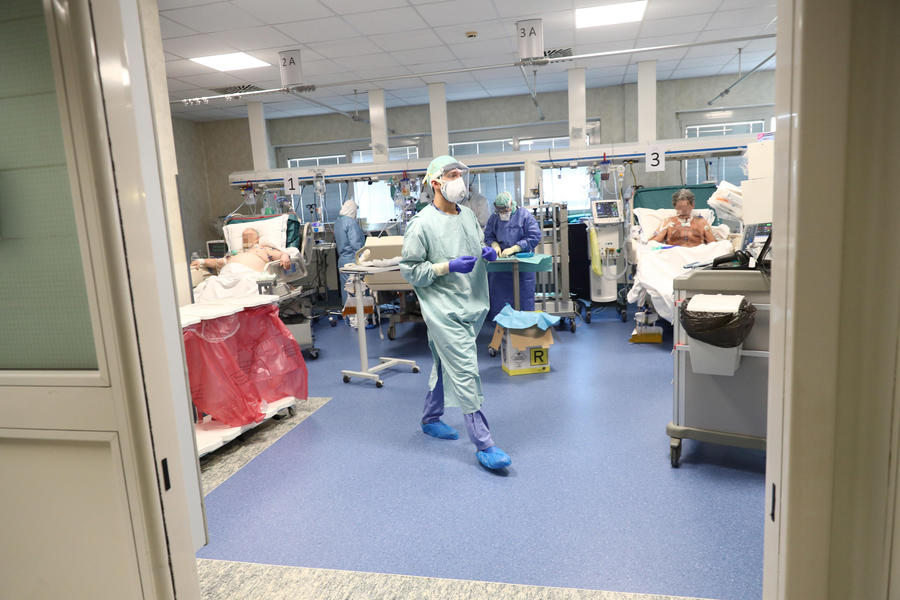 Intensive Care Unit of Brescia People's Hospital, photo by FILIPPO VENEZIA via ANSA
Overview
· In the past week, the mortality rate in Lombardy has reached unprecedented 17.8%, almost doubling the national rate (9%) which in turn has been the highest among countries.
· As of 18.00, March 21, positive cases were 53,578 (+13.9%) in total; current confirmed cases 42,681, including 17,708 hospitalized, 2857 in intensive care (+7.6%) and 22,116 in home isolation; 6,072 cured (+18.4%); 4,825 death cases (+19.7%). (Italian health ministry 21/03, Gedi Visual)
· In terms of the accumulative confirmed cases, Lombardy, Emilia-Romagna, Veneto and Piedmont are still at the top, followed by the central regions Marche and Tuscany. The total number in Italy is in a continuous high growth. At the provincial level, the fastest-growing provinces and cities include: Milan (868 new cases, 4,682 in total), Bergamo (715 new cases, 5,869 in total), Brescia (380 new cases, 5,028 in total), Cremona (341 new cases, 2,733 in total), Monsa and Brianza Province (268 new cases, 1,084 in total) and so on. (Italian health ministry 21/03, Gedi Visual)
· The following figure shows the distribution of daily new case in each province on March 21(Gedi Visual):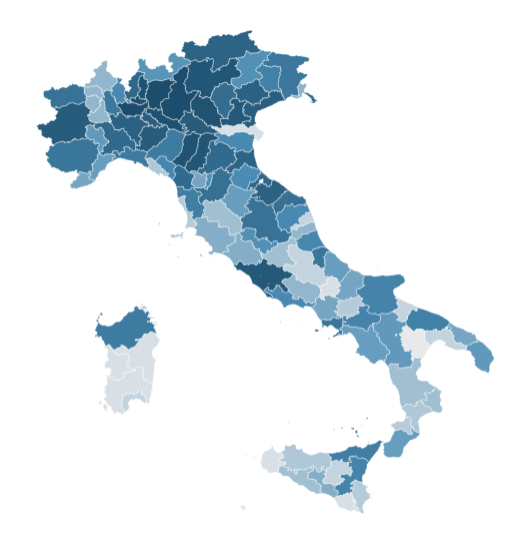 Brescia
· Brescia province is the largest province in Lombardy of northern Italy, with a population of approximately 1,265,900 (2019) in 205 towns. The capital city of Brescia is Lombardy's second-largest city after Milan, with a population of 198,500. The province of Brescia is highly aging and the population over 60 is as follows (Tuttitalia):
| | | |
| --- | --- | --- |
| Age group | population | proportion |
| 60-64 | 76,650 | 6.1% |
| 65-69 | 70,353 | 5.6% |
| 70-74 | 64,237 | 5.1% |
| 75-79 | 55,896 | 4.4% |
| 80-84 | 41,395 | 3.3% |
| 85-89 | 25,843 | 2.0% |
| 90-94 | 11,611 | 0.9% |
| 95-99 | 2,876 | 0.2% |
| 100+ | 246 | 0.0% |
| SUM | 349,107 | 27.6% |
· According to the 2018 Italian hospital database, there are 27 hospitals with capacity to offer beds in Brescia, offering about 5,000 beds of various types.
Case Management
On March 21, Brescia saw 387 new positive Covid-19 cases, a slight increase compared to the 346 new cases on March 20, ranking third in all the provinces (Milan 868, Bergamo 715). In addition to the Val Camonica area (data renewed one day later), the province has 4,955 confirmed cases; 646 deaths with a mortality rate of 13.04%. There are 75 new deaths on 21st and 72 new on the 20th. (Brescia Today 21/03)
The figure below shows the distribution of positive cases and deaths in Brescia Province on March 21, with 79 towns whose fatality rate is more than 10%.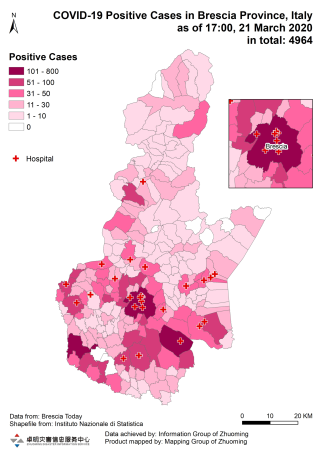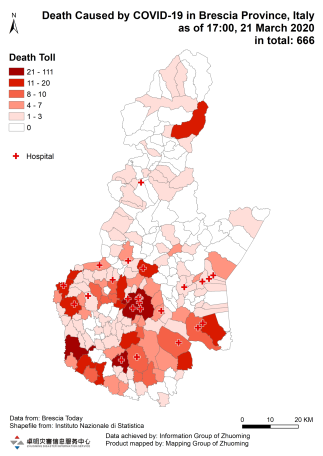 Left: the Distribution of Positive Cases in Brescia; Right: the Distribution of Death caused by COVID-19
According to the data on March 19, there were 9 comunes with more than 10 casualties in Brescia. Apart from the city of Brescia, medical resources in Orzinuovi (patients hospitalized in Chiari), Manerbio, Densenzano have also appeared to be saturated. The death toll in these 9 comunes is as follows: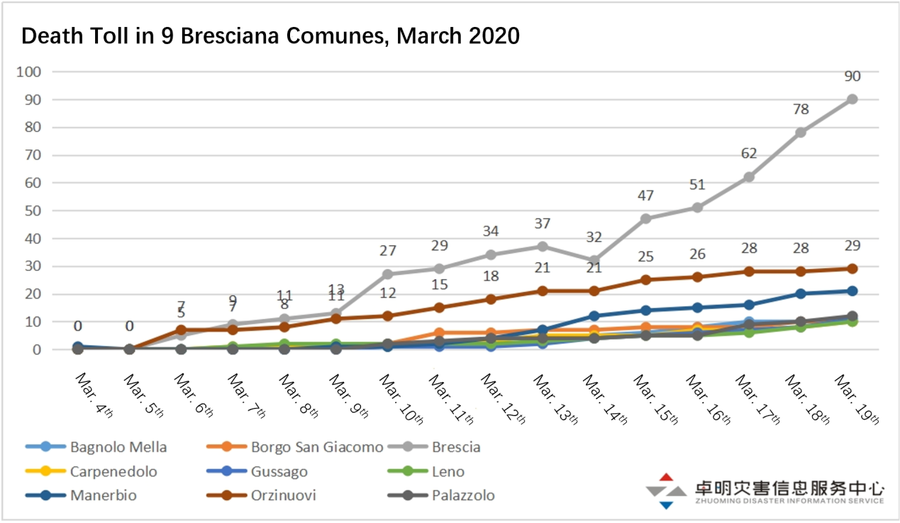 Death Toll in 9 Bresciana Comunes, March 2020


Orzinuovi
Orzinuovi is located in the fringe area of Brescia, Bergamo, Milan and Cremona that have seen the most severe coronavirus outbreak. There is a population of about 12,000 in Orzinuovi. The outbreak of the coronavirus began in elder poker groups of two urban cafés, among which 7 people died on the 6th March. There are only outpatient department in the hospital of Orzinuovi, which caused that severe patients have to be transferred to the hospitals in Chiari (166 beds are available to patients as estimated in 2018). As of March 21, the confirmed cases in Orzinuovi were 155; 30 deaths were reported.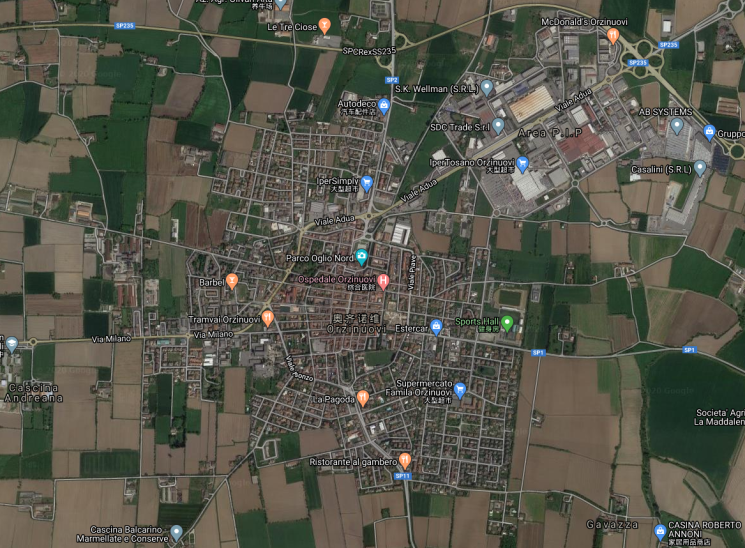 Orzinuovi. Ovital map retrieved on March 22, 2020.
Hospitals
On March 14, Lombardy launched a coordination network in response to overload of routine and intensive care beds. On the same day, some of the patients in Brescia were transferred to other comunes. By March 14, there were 41 intensive care beds dedicated to Covid in Brescia, and the number would gradually increase to 46. Another 11 intensive care beds are reserved for patients of other diseases; Brescia considered continuing to increase the number of intensive care units and the construction of field hospitals, but was hampered by a lack of professional medical staff and the increasing numbers of infected medical staff.(Radio Onda d'Urto 17/03)
According to the data of March 21, the number of patients in intensive care in Lombardy region reached 1050, accounting for 13.24% of the hospitalized cases and 6.29% of the existing confirmed cases. Media reports said that in Bergamo, it takes ambulances 7 hours to arrive after being called.
The Civil Hospital of Brescia has 1,183 beds in 2018, ranking among the top in Italy. The Medical University of Brescia is located in the Civil Hospital. There are also three other hospitals with more than 200 beds in the Brescia city. The province of Brescia has 18 hospitals that holds more than 100 beds each.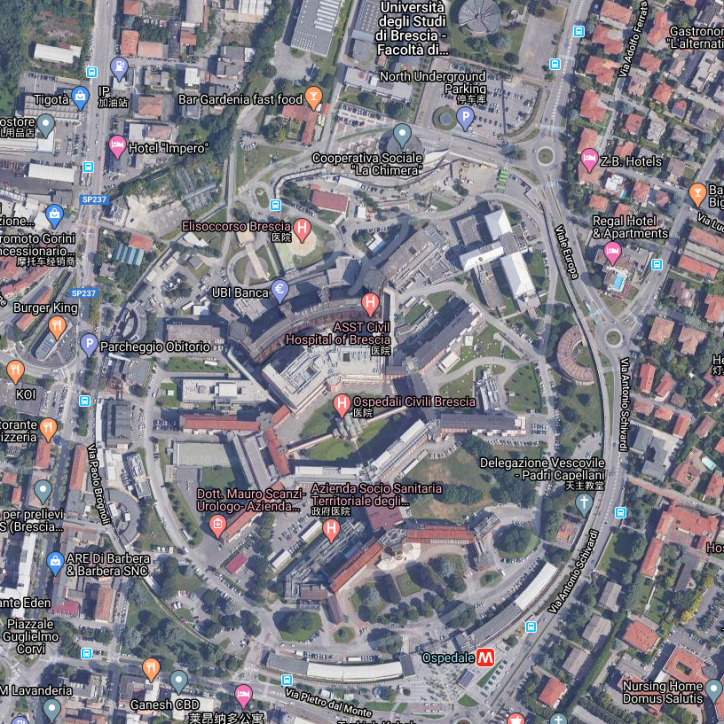 Aerial view of the Civil Hospital of Brescia. Ovital map retrieved on March 22, 2020.
Needs
· The number of intensive care beds remains insufficient. The Civil Hospital of Brescia has two intensive care units with about two dozens of beds, far from meeting the needs of the city and surrounding towns. The Chiari hospital, already overwhelmed, starts to adopt a proposal that suggests to use 3D-printed parts to replace the supplies for ventilator pepe joints.
· There is a serious shortage of protective equipment for medical staff. In intensive care units (where airway intubation is required), medical staff are only equipped with second-level protective equipment and are directly exposed to high-risk infections for long periods of time.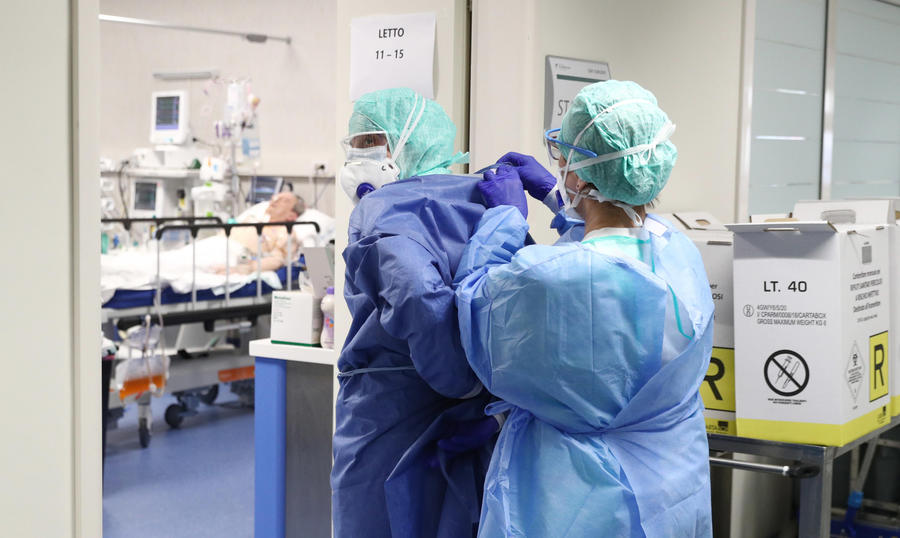 The intensive care unit at the Civil Hospital in Brescia, Via ANSA, photographed by FILIPPO VENEZIA
The lack of ventilators remains one of the greatest constraints to expanding beds and saving lives.
· On March 14, when speaking about considering increasing 90 to 130 new beds in Milan, the officials of Lombardy indicated that the main limitation was lack of ventilators. (Agi 14/03)
· The temporary hospital for critical care at the exhibition centre in Milan once failed to provide any available beds for intensive care because ventilator were not fully in place. On March 16 the Red Cross branch in Milan sent 30 ventilators.(Brescia oggi 17/03)
· Doctors in Bologna managed to retrofit the ventilators so that, with the help of the company Intersurgical, one machine could be used by two patients.(Agi 21/03)
· Customs at Bologna airport intercepted a shipment of 13,200 pieces of intensive care equipment bound for South Africa on 19th March.
Responses and Suggestions
· The 9 experts of the Red Cross Society of China brought 40 ventilators with intensive care sets to Italy in mid-March; more ventilators from China have been on the way.
· China Construction Bank, in cooperation with its Italian partners, has donated 65 auxiliary breathing equipment to the Lombardy region, which will arrive in Milan on March 24.(Lombardia Notizie Online 20/03)
· Based on the experience of purchasing and donating ventilators in China, Chinese social organizations may consider supporting Italian hospitals, including providing reliable provider lists and making donations.
· Chinese diaspora community and business society in Italy may also concentrate their resources to donate ventilators.
Challenge
· Ventilator resources are becoming undersupply around the globe, as many countries have deployed medium-and-long-term ventilator demand. (NYTimes 18/03)
· It is necessary for the donor to understand how sequential oxygen therapy corresponds to the course of disease, as well as how to correspond the types of machines with different types and volumes of hospitalized patients.The following is a brief summary of Wuhan's experience: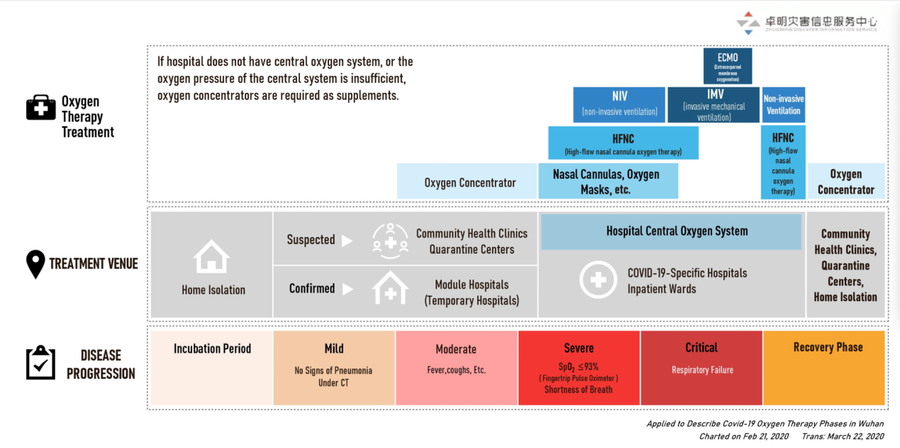 Vulnerable Groups
Chinese diaspora
As of January 2019, 157,400 foreigners live in Brescia, which accounts for 12.4% of its permanent residents. Chinese diaspora accounts for 3.4% (5352) of the foreign population. Brescia city hosts the largest community of overseas Chinese (2462). Towns like Desenzano del Garda, Rezzato, Castenedolo, and Ghedi each has over 100 Chinese living in the area.(Tuttitalia)
· Second generation of Italian Chinese has become more integrated into the society than their parents. However, social descrimination and inequality, which caused by racism and cultural conflicts, still exist.(Anna Marsden, 2014)
· At least a week ago, there were reports that Chinese in Italy (both with and without symptoms) failed to enter the triage process of COVID-19, due to factors such as language barriers, and turned to online medical consultation in Chinese. (NCP Relief Network)
· There are reports on unfriendly local public opinion against Italian Chinese.
Responses and Suggestions
· Chinese diaspora in Italy have organized an assistant network, providing remote translation services to those who have difficulities with access to medical services for treating Covid or suspected signs. Based on the responsive experience in China, social workers and volunteers in China may consider to support such networks with experience and knowledge developed ad hoc for online medical consultation, companion and psychosocial support.
· Chinese in Itlay have started local aids as well. Chinese merchants in Brescia established a volunteering team to deliver free meals for those public departments in need. The team was set up on March 17, and sent 100 free meals to Brescia Poliamulanza Hospital the next day. Social organizations and volunteer teams in China, based on domestic experience, can provide knowledge in personal protection and disinfection guidance during such assistance.
· Italian media paid attention to the situation of Chinese, and reported on the early personal protection effect and supply aid by Chinese in Tuscany. (AGI 21/03)
Challenge
· Online volunteers need to learn the triage process in Italy and diagnosis procedure of Covid, as well as local medical systems and resource distribution in the regions.
· Except in Brescia city, Chinese population in other parts of the province is scattered, which may lead to an imbalance of information flow. Such description applies for other provinces as well.
· Elder Chinese in Italy may not be familiar with online operations; as a result, services and information can be missed by this group.
· For local Chinese who provide on-site assistance, they need to promote awareness in personal protection measures.
· When cooperating with Chinese diaspora and Chinese merchants, one needs to identify and respect the dynamics in their communities.
Refugees and Immigrants
Italy receives more refugees than many other European countries. Between 2014 and 2018, 60,000 refugees and immigrants crossed into Italy. Among them, 90% age between 15 and 17 (IOM). Brescia has been accepting refugees since 2013 (Moving People, 2013).
Given the continually increasing cases of COVID-19 and the Italian government's decision to lock down cities, refugees as a marginalized group are facing greater survival obstacles.
· Problems such as language and identity barriers have hindered the prevention and control process among refugees.
· There are communication barriers since many of the refugees do not speak Italian, so some cannot understand lockdown and hygien policies issued by the government.
· Non-documented refugees and immigrants do not have access to the national medical system and medical resources. They are also often reluctant to enter hospitals for fear of being repatriated.
· There has been no report of refugees infected by COVID-19. (UNHCR 16/03) But this might be because refugees are not being tested.
· Shortage of supplies and manpower have slow downed the asylum application process.
· Italy does not have the resources to ensure welfare of all refugees. The asylum admissions are lengthy processes, that only about 40 percent of applications were approved in 2017. Many refugees have nowhere to go and are stranded in Immigrant reception centers. The qualities of facilities at these reception centers vary from place to place, and some of them are so poorly equipped that some even lack of living supplies (hot water, food, infrastructure, etc.) and are unable to meet basic needs.
· The asylum application process has been closed after the outbreak. (New Humanitarian 16/03)
· The lockdown of the government and non-governmental organizations has led to a sharp drop in refugee assistance programs
· With the widespread lockdowns and travel restrictions in Italy, aid programs for refugees, including employment support, legal aid and language learning, have been sharply curtailed. Many organizations have abandoned offline aid services in favor of online counseling. In addition, the number of volunteers has been drastically reduced, making it difficult for refugee to reach assistance services. (New Humanitarian 16/03)
· The island of Lampedusa, Italy's "first stop" for refugees, has closed its access to refugees. (AGI 18/03)
Responses and Suggestions
· On March 10, UNHCR released an initially appeal for US $22 million to boost the immediate public health needs of refugees caused by COVID-19. (UNHCR 16/03)
· In Brescia, local organizations provide shelter, food and other services for the homeless and undocumented migrants. (Radio Onda d'Urto 19/03)
· Chinese social organizations can connect with professional humanitarian aid organizations in Italy and support them in providing legal aid, language learning, health protection, medical consultation and other services to refugees and migrants.
Challenges
· As the COVID-19 outbreak sustains, the government is overwhelmed and unable to devote enough time and resources to help refugees.
· During the crisis, refugees may face greater discrimination and exclusion, which will further increase the vulnerability of the group.
Written by: Xu Shiling, Jingyao, Hao Nan
Reviewed by: Hao Nan
Thanks for supports from Lv Mingxia, Kuma, Suisui, Francy, Ji Shumin as information team; Lian Fang, Li xiao as map team.
Translation: Scarelt, Wei Zhaohui, Zhao Zhazha, Ma Michelle, Winston
Proofreading: Wei Chaohui, Zhao Zhazha
Final proofreading: Xu Shiling
Published in 2020 by Zhuoming Disaster Information Service

This publication is available in Open Access under the Creative Commons Attribution-Non Commercial-Share Alike 4.0 International License.
The designations employed and the presentation of material throughout this publication do not imply the expression of any opinion whatsoever on the part of Zhuoming Disaster Information Service concerning the legal status of any country, territory, city or area or of its authorities, or concerning the delimitation of its frontiers or boundaries.
The ideas and opinions expressed in this publication are those of the authors; they are not necessarily those of Zhuoming Disaster Information Service and do not commit the organization.