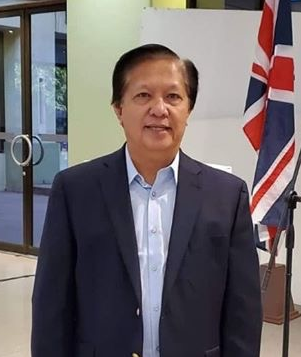 ASG. Reynaldo Lagda Saludares
1.ASSISTANT SOLICITOR GENERAL (ret.), Office of the Solicitor General of the Philippines (OSG) ,December 1, 2003-September 21, 2017.

2.OUTSTANDING LAWYER FOR STERLING PERFORMANCE, DEDICATION TO DUTY AND INTEGRITY, OSG [OCTOBER 9, 2003].
3.CHEVENING FELLOW, awardee of the Government of the United Kingdom (UK) for the study of Democracy, the Rule of Law and Security at the University of Birmingham, sponsored by the Foreign and Commonwealth Office of the UK and Northern Ireland [January 10 - April 3, 2009].
4.CHINA ALUMNUS, awardee of a scholarship from the Ministry of Commerce of the People's Republic of China for the study of Chinese Culture and Economy at Nanchang University, Nanchang City, China [November 7, 2008 – December 8, 2008] and Building Up the Capacity of the Non-Government Organizations of Developing Countries in Fujian and Sichuan, China [November 17 – December 8, 2009].
5.ALUMNUS of the HARVARD NEGOTIATION INSTITUTE, Re: PROGRAM ON ADVANCED MEDIATION; MEDIATING COMPLEX DISPUTES, Harvard Law School, Cambridge, Massachusetts, U.S.A. [June 2016].
6.ALUMNUS of the INTERNATIONAL LAW INSTITUTE, Re: INTERNATIONAL INVESTMENT TREATIES AND INVESTOR–STATE ARBITRATION, Georgetown University, Washington D.C., U.S.A. [November 28 – December 9, 2016].
7.MEDIATOR. World Intellectual Property Organization (WIPO) specialized agency of the United Nations (UN) based in Geneva, Switzerland.
8.MASTER OF LAWS
Major in Intellectual Property
Ateneo de Manila University, Makati
2011-2012
9.BACHELOR OF LAWS
San Beda College, Manila
1974 - 1978
10.BACHELOR OF ARTS, MAJOR IN ECONOMICS
San Beda College, Manila
1970 – 1974