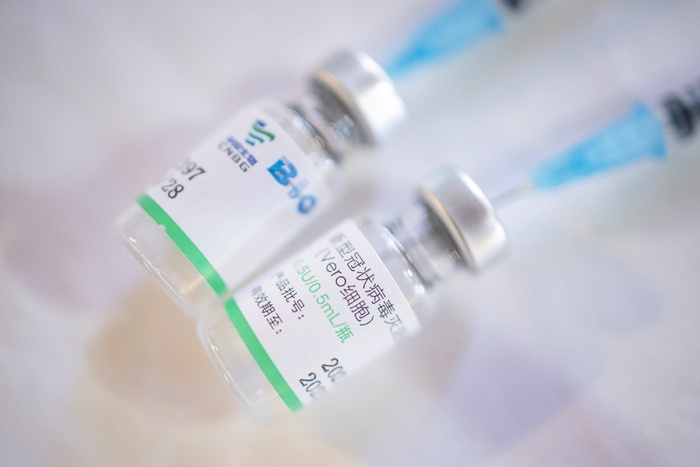 Doses of the Sinopharm vaccine against the COVID-19 are seen. [Photo/Agencies]
A late-stage clinical trial has found a three-dose Chinese vaccine developed by Chongqing Zhifei Biological Products to be nearly 82 percent effective in preventing diseases related to COVID-19 and over 77 percent effective against the highly transmissible Delta variant of the novel coronavirus, the company said last week.
The recombinant protein vaccine uses the spike protein of the virus to trigger immune responses. It is the first and so far the only vaccine approved for emergency use in China to have adopted that technology.
In a statement issued on Friday, the company said a third-stage human trial of the vaccine was launched in December in China, Uzbekistan, Pakistan, Indonesia and Ecuador, enrolling a total of 28,500 people.
Participants were evenly split between those receiving vaccines and placebos, and each was given three doses at an interval of one month.
The company said 221 people contracted the virus. It did not specify which group the infected people belonged to.
The trial results put the vaccine's protection rate against COVID-19 illnesses of any degree of severity at 82 percent, exceeding a basic standard of 50 percent set by the World Health Organization, the company said. It added that the vaccine is 100 percent effective at preventing severe cases and deaths.
A preliminary analysis also shows that the vaccine has an efficacy rate of 93 percent against the Alpha variant first detected in the United Kingdom, and over 77.5 percent against the Delta variant that was first identified in India, which is expected to become the dominant strain globally due to its high transmissibility.
In terms of safety, the company said there was no significant difference in the rates of adverse reaction between the two groups.
The vaccine was jointly created by the company and the Chinese Academy of Sciences' Institute of Microbiology. In June last year, researchers gained approval from China's top drug regulator to launch clinical trials. They released results of early stage human trials in March.
On March 10, the vaccine was granted emergency use authorization and has since been rolled out in China's mass vaccination program.
The recombinant protein vaccine is very safe, and it is relatively easy to scale up production and transport it, but its three-dose regimen increases difficulties in terms of accessibility in less-developed and remote areas.
Pu Jiang, manager of Anhui Zhifei Longcom Biopharmaceutical, a Chongqing Zhifei subsidiary based in East China's Anhui province, told local media in February that Anhui Zhifei planned to refit its plants that produced rabies vaccines to manufacture COVID-19 vaccines.
In a separate interview in May, Zhou Feng, head of an Anhui Zhifei COVID-19 vaccine plant in Anhui, said the company expected to produce 500 million doses a year.